On April 6, the orientation for new international students enrolled in spring was held at the International Exchange Salon. 38 people attended the orientation including 21 new students, faculty members and members of international exchange group, Science Buddy. After a welcome speech by Professor KOSHINO, Chairperson of the International Exchange Committee, faculty members explained in English about support system for international students in our department, various precautions in daily life, and administrative procedures.

Welcome Party for International Students Enrolled in Spring 2023
On April 14, the welcome party for international students enrolled in spring was held at the International Exchange Salon. A total of 40 students and faculty members, including 25 international students, participated in the event.
Some of them played a card game and others enjoyed talking. They exchanged their contacts and had a great time.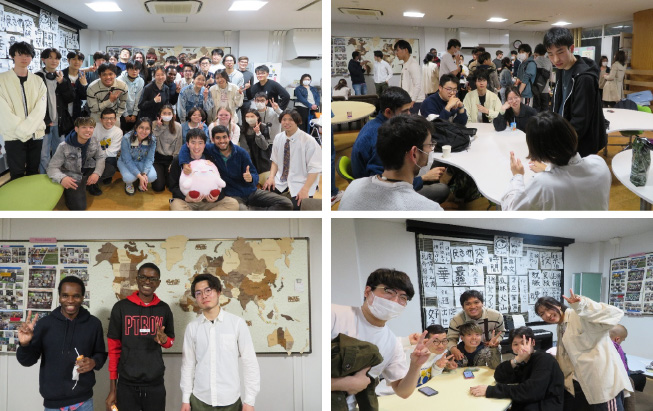 Newsletter
April 1st 2023: The 19th issue was published. Here
Back number: The 18th issue,The 17th issue,The 16th issue,The 15th issue,The 14th issue,The 13th issue,The 12th issue,The 11th issue,The 10th issue,The 9th issue,The 8th issue, The 7th issue,The 6th issue,The 5th issue,The 4th issue,The 3rd issue,The 2nd issue,The 1st issue
Science Buddy
Science Buddy is a student group which aims to enhance international communication and is composed of Japanese and International students in the Graduate School and School of Science. We enjoy intercultural experience and deepen the mutual understanding through the organization and management of various kinds of events. If you would like to become a member of Science Buddy, please contact us at ri-daigakuin@office.osaka-u.ac.jp.

If calling from outside Japan, please add the Japan country code 81 and remove the 0 at the beginning. For example, +81-6-6850-6778 (Graduate Student Section).
If you are in trouble, need something or information on something, you are more than welcome to come and share your concerns with us! We have several points of contact for students of the Graduate School of Science and the School of Science. Even trivial problems are more than welcome. Consultation services are available in English.