Gallery and Voices
Voices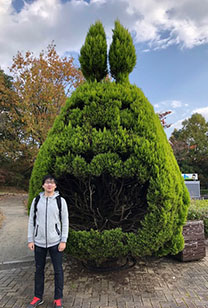 Zhijin Chen
(China)
Department of Chemistry
Hello, I am Zhijin from China. I have been studying in the Department of Chemistry since the undergraduate course in 2011, and I am in my last year of the Ph.D. course. At the beginning, I was in an English taught course, and I knew very little about the Japanese that I was anxious about studying abroad. I was supported a lot by professors and staffs here to get used to the life in Osaka. Nowadays there are even Japanese lectures provided by volunteered students (Science Buddy) in the School of Science. So please don't worry even you don't know much about Japanese. There are also events introducing Japanese culture and field trips to learn about Japanese society.
In the Department of Chemistry, there are labs studying in various fields in chemistry. In addition to the research topics in our own lab, we can attend lectures and seminars from other research areas to extend our view and learn about the latest research progress in related fields. Sometimes there are collaborated research between labs, which can improve our research skills and get to know more friends.
As a highly regarded national university in Japan, Osaka University gives us access to precious resources. There are opportunities to visit famous national research institutes and companies to take advantage of state-of-art facilities and conduct joint research. There are also chances to go abroad to do experiments in foreign universities to improve our research.
Life in Osaka University does not mean doing experiments all the time. It is an experience to learn about Japan and all around the world that allows me to earn academic and life skills. I would highly recommend future students to come here and discover new possibilities in our lives.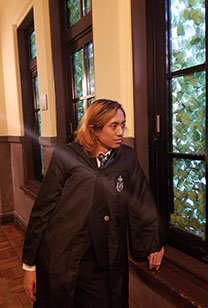 Laurenzo Alba
(Phillippines)
Department of Chemistry
When I was young, I was very interested in science – in doing experiments and discovering things; and in Japan, since I enjoyed products of Japanese culture such as animation and music. The technological advancement of Japan also made it more attractive to me. My parents and relatives thought that the language barrier would be problematic, but I think it is a challenge worth taking. One reason is that the program I enrolled in Osaka University is in English, so most of the need to learn Japanese is due to day-to-day activities outside the laboratory and in socializing. Being a student in Japan is a dream come true for me.
Looking back from the time I arrived in Japan in October 2017, I feel happy with the progress I made – in my objectives as a researcher, in my growth as a person, and in learning Japanese language and culture. The research facilities, resources, and training from Osaka University made research more efficient for me. As for the language, it is far more satisfying than realizing I have made significant progress – as if you thought you couldn't do it at first, but now you are being inspired to learn more. It is not easy. It takes you out of your comfort zone, but it is a good mental exercise that also opens up new paths for your future.
Initially, I faced many challenges just as other international students had, such as being away from home, away from the support of your parents and longtime friends, away from the institutions of your home country, having nobody to have normal conversations with, and basically restarting your social life from zero. It was difficult – sometimes lonely, sometimes sad. However, it gets better slowly as you develop yourself to be more independent. You learn to be responsible, to be more in control of your time, and to set manageable goals for yourself daily or weekly. You learn how to take the train or bus regularly, to pay your bills, and some people also have to balance things out with part-time jobs. Finally, being able to communicate things properly with your professor takes away much of the unnecessary stress and worry. Now, having rebuilt my social life, I have made many cherished memories with friends and acquaintances in the university and with international students from all over the world.
I have fallen in love with Japan. I want to spend more time here, such as a postdoc or some work experience. However, I also think about my duty to my country after I graduate – where I can use my new skills to improve the quality of research in my hometown. In the end, being an international student certainly opened a lot of doors for me, and I would certainly want to keep them open for the sake of my future.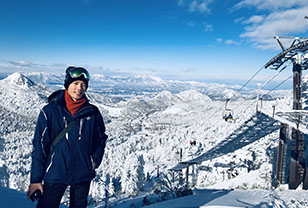 Woei-Yaw Chee
(Malaysia)
Department of Biological Sciences
I have a deep interest in learning the Japanese language and experiencing the local cultures in Japan. Most importantly, the thoughts of involving in a Japanese research team led by top university's department is tremendously exciting as it offers me to grasp more insights into the field of biological science. Currently, I am in my first year of Ph.D. in the SISC program, and I hope my work would increase the understanding of molecular mechanisms at the interface of aging and cancer.
I am truly grateful to the staffs in the Graduate School of Science and the Research Institute for Microbial Diseases as they are very supportive in ensuring my student welfare at Osaka University. Besides that, I am indebted to my supervisor for the knowledge and skills he has imparted and his support and guidance for my project. In Osaka University, I was given opportunities to present my research in various international conferences such as the annual meeting of the Molecular Biology Society of Japan Consortium of Biological Sciences and Taiwan International Symposium. In addition, I also felt blissful that I got to experience hospitalities and liveliness of my Japanese friends and colleagues in 'Nomikai' (drinking parties) and during festive seasons such as 'Hanami' (Cherry Blossom viewing) and 'Hanabi'(Firework festival).
In short, for those who have a huge interest in continuing their study at Osaka University, I would say that you are making an excellent decision. Let yourself move towards what is good, valuable, strong and true.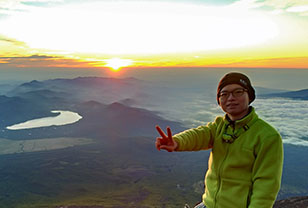 Shih Yu
(Taiwan)
Department of Biological Sciences
Hello there, I'm Shih Yu from Taiwan. I came to Japan three years ago for my master's degree, and now I am in the first year of the Ph.D. program. After finishing my bachelor thesis in Taiwan, I decided to study developmental biology further. In order to study with a better research environment and acknowledgment, I chose to apply to the historical and scientifically-advanced Osaka University. I could luckily join the Laboratory of Developmental Biology under the supervision of Prof. Nishida. My laboratory is a large lab composed of three staffs and about 20 students, which allows us to have integrated resources, frequent discussions, and helpful advice. Now I'm studying the development of a mysterious and interesting ocean creature Halocynthia. It's really exciting to take care of this animal, which gives me the opportunity to deal with local fishermen directly and to understand how an aquarium works with them.
In the research communities, there are lots of meetings and seminars all around Japan, which provides opportunities to discuss and brainstorm with pioneer researchers. I have attended the Zoological Society of Japan Annual Meeting and Tunicate Meeting for the last three years. The ideas and opinions given by the other scientists really broaden my horizon and were inspiring. The Graduate School of Science provides several occasions to present my studies. I can also obtain valuable advice from researchers having a different background. Although your English ability is enough for studying in Japan, I will still recommend anyone who wants to be a researcher at Osaka University to learn the Japanese language, at least up to the N3 level of JLPT. Since most of the terminology is translated into Japanese here and most of the seminars are held in Japanese, Japanese ability will allow you for better involvement in the seminars and discussion. Understanding Japanese will also help you to understand the Japanese culture and get along with the other students.
Zhiyu Li
(China)
Department of Macromolecular Science
I am a master-course student of the Graduate School of Science (GSS), Osaka University. I have been here for almost six years (for the undergraduate and master's programs). I really want to thank my lab members and my professor. For research, When I sometimes don't understand well in Japanese and English, my professor often explains the experiment and knowledge slowly and repeatedly. Other lab members, including Chinese seniors, usually give me advice. Without their help, I probably would not have graduated.
Moreover, because our lab has a good atmosphere for communication, my Japanese became better and better. I also want to say to my future colleagues, thinking of being a researcher, you must understand that it is not easy to be a researcher. The experiments generally do not go as well as you might think. In that case, you should discuss it with your professor or lab members early. Active communication is the best way to solve the problem and do not wait for help coming. Asking the people who are familiar with that field is best.
For master-course students who want to work in Japan, the Japanese ability is also important as much as your research. Conversation with your lab members would be the easiest way to improve your Japanese, which might make you feel happy. Do not be a lonely person. You can also go to the international exchange salon, where are many Japanese students who like to mingle with international students.
To undergraduate students, I recommend you to get a part-time job. It is an excellent way to understand Japanese culture and improve your Japanese language proficiency. I did a part-time job at a Japanese food restaurant when I was an undergraduate student while I was not so much busy. I made many friends there and got used to using 'Keigo' (polite Japanese) and vegetable names in Japanese. We often went together to a near cheap restaurant after work. I had a happy time with them and felt not lonely, especially on public holidays. Finally, I want to say, keep on doing your best, no matter whatever you choose. If it is your choice, never give up! You will get more than what you wanted.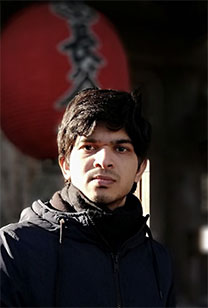 Brijesh
(India)
Department of Physics
I came to Osaka University in October 2016 to join the International Physics Course (IPC) program as a Ph.D. student in the mass spectrometry group in the Department of Physics. During my master's program in India, I used to think about doing a Ph.D. in physics in India. I hesitated to go abroad due to some financial problems, I occasionally underestimated my academic skills to be good enough to study abroad with scholarship, even though I always wanted to go. In the meantime, I came to know about our university's collaboration with Japanese Universities through JICA scholarship program. After knowing that, I decided to go to Japan for my Ph.D. by seeing that as my only opportunity to study abroad.
Before coming to Japan, I did not know much about Japan. My Japanese language ability was zero. It was my first visit to a foreign country. I heard from my professor's back in India that people here are polite, hardworking, and disciplined. That is what I exactly found after coming here. Before coming here, I was a shy person who was not good at communicating with people. After I came here, I met a lot of international and Japanese students. I joined many student organizations, and I even went on to become the vice president of one of the organizations. These things not only improved my communication skills but also helped me to interact with new people. I would say that every student should study abroad at least once during their student life and I guarantee that you will learn a lot of things. Osaka University could be that option. Osaka University is one of the leading universities in the world in many areas of research. You will find all the facilities you need as a researcher or student here. People are helpful and polite. You will also have a chance to learn a new language. You will learn to adapt to a different culture and environment. That is why, In the future, I am planning to work in Japan.
So, if you are planning to come here, don't hesitate, back yourself and go for it.
All the Best!!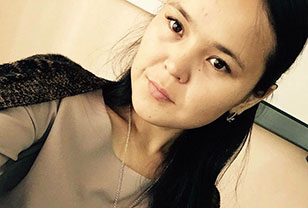 Omar Zhadyra
(Kazakhstan)
Department of Physics
Hi, my name is Omar Zhadyra from Kazakhstan. I enrolled in Osaka University 1.5 years ago as a Ph.D. student for the Double Degree Program (DDP) of the IPC, and now I am in the second year of my study.
At this moment, I am working with Professor Hiroyuki Noumi. Also, I am a part of the J-PARC collaboration in the Hadron Experimental Hall. In our lab, we have many Ph.D. students, postdocs, and faculties, so if I have any problems or questions related to our research or life in Japan, I can ask for help or advice. I have gained numerous opportunities to present my research at a regular meeting in our group every week and in our collaboration group every month. Besides, I have experienced to present my research work at the Physical Society of Japan Annual Meeting and international conferences.
If someone asks me why you choose Japan and Osaka University as your destination in my scientific life, I would answer like following. At that moment, I was seeking an environment where I can challenge my English because my native language is not the primary medium of communication, and I wanted to improve the knowledge about Nuclear physics (such as particle physics conducting some experiments and computing and such). Particularly, Japan has beautiful places and seasons when we can see colorful autumn leaves, "Hanami" (Sakura Viewing) in spring, and more natural scenery.
Finally, to sum up, my short essay, I would say to anyone who wants to come to Japan to gain the opportunities in scientific life or whatever in life generally, "Go ahead, don't be scared, just do it!!! I might be your chance to your bright future, which you could never have imagined!"
Gallery
Videos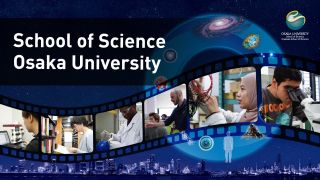 School of Science, Osaka University 2022
This video introduces scenes of classes and research, curriculum, and interviews with international students at the School of Science and Graduate School of Science, Osaka University.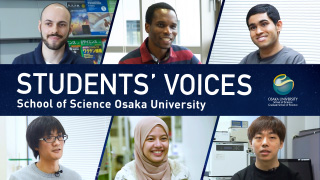 Students' Voices 2022 – School of Science, Osaka University – For High School and Undergrad Students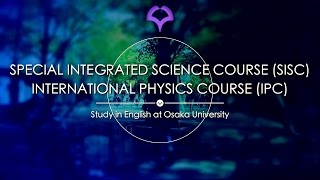 Studying in English at Osaka University´s SISC & IPC Courses (CAREN)
Meet some of the foreign students studying in English on the Special Integrated Science Course, and the International Physics Course at Osaka University. For more information, visit CAREN website (http://caren.eng.osaka-u.ac.jp/).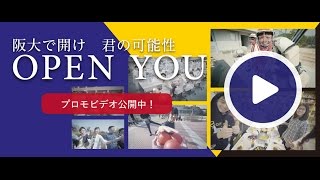 OPEN YOU Long ver. [Osaka university PR 2016]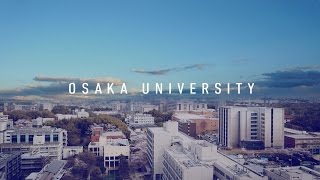 Osaka university PR 2017
At Osaka University, diverse individuals are working together every day to create the future through the latest in research and education, all in the rich cultural and historical environment of Osaka.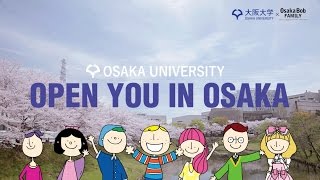 OPEN YOU IN OSAKA 2017 [Osaka University x OsakaBob PV]
Take a stroll and get a taste! Scenes from student life at Osaka University.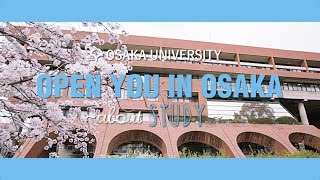 OPEN YOU IN OSAKA 2017 – about STUDY [Osaka University x OsakaBob PV]
Take a look and get first-hand information about what it's like studying at Osaka University.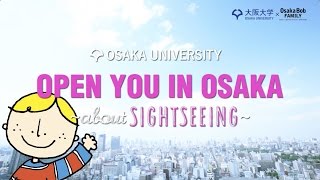 OPEN YOU IN OSAKA 2017 – about SIGHTSEEING [Osaka University x OsakaBob PV]
There are so many things to see and do in and around Osaka for an international student at OU. Let Osaka Bob, Osaka's official tourism character, be your guide!