Voices Archives
Voices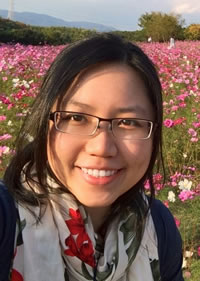 Wei Min Chan
(Malaysia)
Department of Physics
Hi, welcome to Graduate School of Science!
My name is Chan Wei Min, came from Malaysia. I entered Osaka University about 4 years ago as an IPC master student and now is my final year of PhD program.
At Osaka University, I joined the Nuclear and Particle Physics Group led by Prof. Tadafumi Kishimoto and became a part of the CANDLES Collaboration, a renowned frontier research group examining neutrinoless double beta decay. Different labs may have different environments depending on the specialization. In my lab, we have a big student room where all undergraduate, master, PhD students and researchers work together regardless of nationality. This is a wonderfully supportive and lively environment. If we have any problems or questions, we can just go to another desk and ask for help. During special occasions like Sakura Viewing (Hanami) or year-end or graduation, we all celebrate together.
Even as a graduate student, I have gained numerous opportunities to present my research on occasions like collaboration meetings, graduate school camps, and for the Physical Society of Japan Annual Meeting and international conferences. The exposure of graduate students to the larger academic society at a relatively early stage has many positive influences on one's future career path. Furthermore, we have access to cutting edge technology and world-class facilities like a large-scale laser, cyclotron, underground observatory, and super computer, etc.
Finally, If I was to sum up in few words what I would say to anyone thinking about Osaka University I would say "Go for it, dare to make a change and step out of your comfort zone." Once you open the door before you, there may be a bright future ahead which you could never have imagined.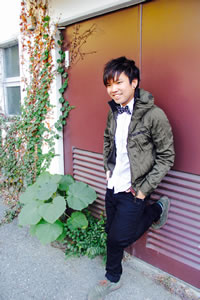 Kegan Lee
(Singapore)
Department of Physics
I chose Japan as my destination for my tertiary studies primarily because I was seeking a challenging environment where English, my native language, is not the main medium of communication. Japan has a very good balance of modernity and tradition, evident from its cutting-edge scientific and technological advancements which co-exist with its rich history and culture, hence it was the perfect option for me. In the course of my research here in Osaka University, my supervisor has provided me a lot of invaluable guidance, imparted me in-depth knowledge of my field of study and also provided me opportunities to collaborate with other research groups thanks to her broad network of contacts. While a good grasp of English is sufficient for doing quality research, I would strongly encourage anyone who is considering being a researcher here in Osaka University to pick up the Japanese language as language is the key to understanding the working culture and the Japanese psyche. Mastering the Japanese language would definitely allow you to appreciate the finer details of living in Japan. After living here for 7 years, the most memorable aspect of this country for me is the immense consideration that people show for one another and their surrounding, which manifests itself even in the language. Stepping into the working society and in the face of stiff competition, it is clearly crucial to express and assert one's opinions and ideas but it is also equally important to stay humble and considerate. In this respect, I would like to glean this invaluable quality from the Japanese society, which I believe will help me stay anchored and rooted as a person even as I return to my country to work in the education sector.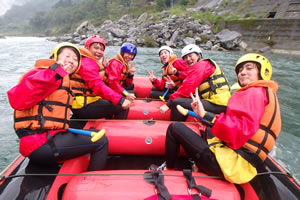 Raymond S. Malabed
(Philippine)
Department of Chemistry
Our life is a book with never ending stories. Once you are finished in a chapter, you have to start a new one. We make our own stories and we choose how to write it. As I started a new chapter in my life, a journey to achieve my aspirations, I decided to pursue my studies. In choosing a reputable research institution, I considered the research area, the environment and the distance to my home country. I learned that our university has a very good collaboration with Japanese universities, especially with Osaka University. The research disciplines in this university are very fascinating and advance. I also have senior colleagues who recommended Osaka University as one of the best choices to pursue my studies. I applied to Osaka University because it gives good research opportunities to international students like me. When I entered the university in Spring Semester of 2015, I felt nervous and excited because I do not know what to expect. New colleagues and staffs in the university are very welcoming and I easily felt like it's my second home. Of course not every day you are satisfied with what you have achieved. Sometimes you would feel down, but most of the time you would feel fulfilled. I am happy that I chose to be in this university. I have met and exchanged good conversations with a lot of people, traveled to a lot of places and felt good companionship with my colleagues. The most interesting experience here in Japan is living alone and discovering what Japan has to offer. When I finish my studies here, I will be coming back to my home country to work in the academia or industry, but I will definitely come back here because this awesome place is my other home.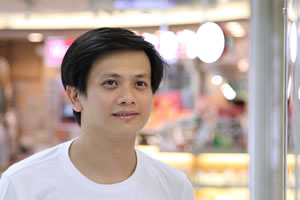 Pham Tan Thi
(Vietnam)
Department of Physics
I left Vietnam in 2008 for pursuing a master and PhD degrees at Osaka University. My PhD study is very much longer than a standard one, but I am always happy with it now and even in the future. I have already learnt and achieved many things during my stay here. I would like to share in the following two most significant stories.
Learning to work hard. My first impression was that Japanese students work so hard, and are very smart and skillful. In my home country, I just could work about 8 hours/day including a lunch break. Japanese students, at least in my lab, work almost more than 12 hours/day. It was a very tough time for me to follow them. Then I made a strategy at the beginning: staying in lab totally 12 hours and resting 2 hours at home. For instance I came to lab at 8:30AM, work until 6:00PM, go home for dinner and taking a nap in 2 hours, then go back to work until 0:30. After a period, I steeply get used with working hard as Japanese students do.
My research at Osaka University is well-known in my home country. By doing so, I could, fortunately, come up with an idea and get a research grant even before my graduation. I was trying to keep in a touch with collaborators and to join as a co-supervisor for undergraduate students in my home country. Indeed I experienced some difficulties at least in scientific background. Nonetheless, there are my supervisor and other professors at Osaka University or worldwide universities to ask for discussions. During supervising, I was able to introduce my research here to collaborators many times, which could bring me a chance to propose an idea for a research grant. The research topic is relatively close to what I have been doing here. It is now a time for me to leave Osaka University for testing out myself in the academia. I wish to make collaboration with and to get support from Osaka University for my future career. Finally, I would say I am proud to be a student at Osaka University.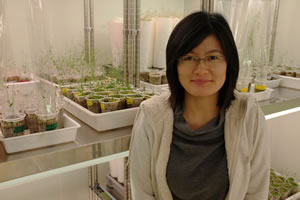 Ye Zhang
(China)
Department of Biological Sciences
My first visit to Graduate School of Science of Osaka University was six years ago, which also gave me the first impression of Japan. Without much prior knowledge of the country's language, culture, etc., I almost instantly felt this place: orderly lifestyle, filled with dynamic minds.
Later I joined GSS as a master course student in SISC program and now I am at the final-year of my PhD study. In these past years I have not regretted my choice. I decided to pursue a career as a researcher in biology because I have always been curious about nature and enjoyed experiments to unravel complex matters. GSS-OU has state-of-art facilities and pioneer researchers across disciplines, and, above all, a passion for originality. "Are you doing and thinking anything original?" I was asked many times. And now I have started to ask myself this question every day. I have learned that the path to a successful research career is not easy; being able to give a positive answer to the question above is my motivation to continue.
So this is something important I learned in OU and I would like to share.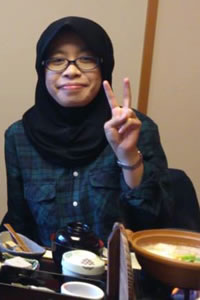 Widhi Dyah Sawitri
(Indonesia)
Department of Biological Sciences
Why did I choose Osaka University?
There are many great reasons to study at Graduate School of Science (GSS), Osaka University. One of the reasons is that the students have an opportunity to study and work with many research centers, such as Institute for Protein Research (IPR), Research Institute for Microbial Disease, etc. We also have a chance to conduct some research projects of the structure and function of biological molecules at Spring-8, one of the world's largest synchrotron radiation facilities. Many professors and students of GSS have been affiliated with these research centers for educational activities.
What is good about being a researcher here?
The good things of being a researcher here is that it is really helpful to polish research skills because many labs at Osaka University have nice equipment and it is a good opportunity to learn how to improve our skills on scientific research. Additionally, we can learn how to be a good scientist by communicating with other professors and researchers. It makes us more creative and innovative to design our strategy for research and this environment can increase our research experiences.